OEA OXFORD, U.K
Established in Oxford, U.K, OEA has consistently strived to bring high quality training products to countries around the world through the OEA International English Schools system. So far, OEA has established a presence in 08 dierent countries.
OEA Oxford is accredited by two organisations:
ASIC – Accreditation Service for International Colleges (an independent quality assurance body specialising in the institutional accreditation of education providers worldwide) and
QISAN – Quality International Study Abroad Network (an accreditation organisation which provides information about schools and educational institutions to students from around the world).
OEA VIETNAM
OEA Vietnam, managed by BrainClick Vietnam, a member of OEA's international network of English schools worldwide, strictly follows academic procedures and quality standards regulated by OEA Oxford.
OEA Vietnam is the Authorised Regional Representative of OEA Oxford, U.K to develop and manage a system of member schools in Vietnam.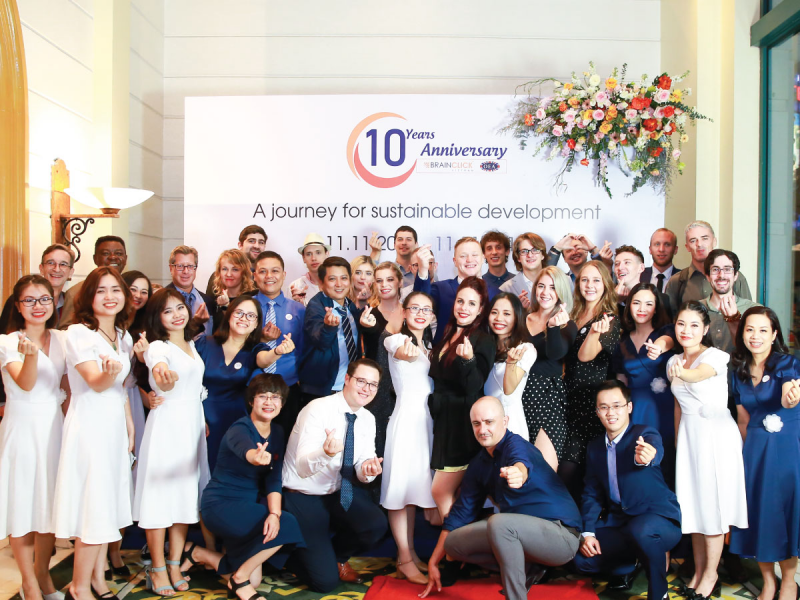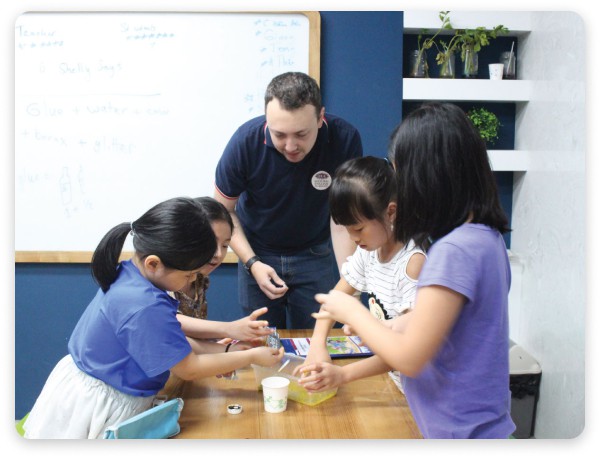 Our Vision:
"We provide educational services of international standard, highest quality and sustainable values"
Our Motto:
We don't just teach. We foster learning!
OEA Vietnam's English programs are developed in alignment with the Common European Framework of Reference for Languages (CEFR).
Learner-centered approach to the process of teaching and learning adopted by OEA Vietnam in order to cater for participants' various learning styles, paces and preferences, and particularly their different backgrounds, experiences, and needs.
Task-based teaching and learning (TBT & TBL) approach is also incorporated into the course of learning and teaching. This approach offers participants opportunities to use therefore to learn language through tasks simulated from prospective communication situations and contexts. By doing tasks, participants can find out what they need to know, to learn and to develop in terms of language knowledge and skills in order to fulfill the tasks given.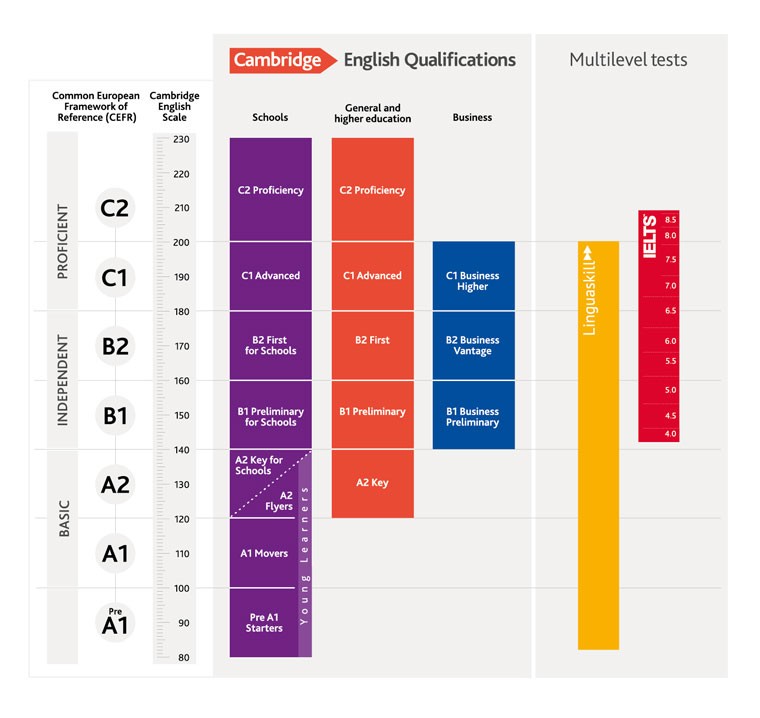 BrainClick-OEA Vietnam is the Authorised Exam Centre (Centre No. VN274) of Cambridge Assessment English, University of Cambridge.
YLEs: PreA1 Starters, A1 Movers, A2 Flyers;
A2 Key (KET), B1 Preliminary (PET), B2 First (FCE), C1 Advanced (CAE) – (Paper-based & Computer-based);
TKT (Teaching Knowledge Test).
We have continuously won contribution awards granted by Cambridge Assessment English, University of Cambridge, namely
Outstanding Contribution in SEA & Pacific Region in 2013 – on the 100th anniversary of Cambridge Assessment English, University of Cambridge;
High Performance Growth FY16-17 in SEA and Pacific Region in 2017 and
Centre of the Year in SEA and Pacific Region in the two consecutive years 2018 & 2019.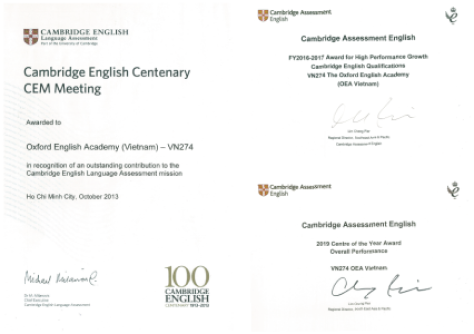 We are especially proud that our achievements are associated with positive impacts to learners & to the community of English teaching & learning, such as:
Cooperating with VTV2 in developing a TV series which prepares students for university entrance exams and English teaching programs on television;
participating in answering English questions in university entrance exams (live on VTV2);
Organising training workshops on CEFR in Northern provinces and cities;
cooperating with Cambridge Assessment English (University of Cambridge) & Hanoi Department of Education and Training to organise seminars for English teachers of schools in Hanoi;
Sponsoring & coordinating with the Department of Education and Training of Ba Dinh district to organise the annual Olympic English Contest for Ba Dinh District's secondary schools;
OEA Vietnam develops a TV program for English teachers on "Applying CEFR for English Learning, Teaching and Assessment" (supporting the National Foreign Language Project, MOET).
OEA Vietnam was honoured to be trusted and authorised by the US Embassy in Hanoi to implement the Access English Micro Scholarship Program funded by the US Department of State and the US Embassy for economically, socially or ethnically disadvantaged students with excellent academic achievements in 03 provinces: Hai Duong (2011-2012), Hung Yen (2013-2014) and Bac Ninh (2014-2015).
OEA Vietnam and our partner schools all share a "learner-centric" approach to education and through this approach we nd our success, bringing positive results to thousands of participating students.
Over 8,000 students attend our English enhancement programs with foreign teachers every year – an educational cooperation project between OEA Vietnam & our partners schools in Hanoi:
M.V. Lomonosov Education System;
Ta Quang Buu High School;
Dich Vong Hau Secondary School;
Thang Long Secondary School;
Thanh Cong Secondary School;
Nguyen Tri Phuong Secondary School;
Everest Education System.
OEA Vietnam has collaborated and successfully organised many courses specifically designed for senior officials, middle managers and staff of domestic and international organisations and enterprises, namely
LG Electronics (managers and factory-based employees);
CFC (Cement Finance Corporation);
Kloon Limited (Switzerland-based Software Company);
Ministry of Science and Technology;
The U.S Department of State/The U.S Embassy Hanoi Vietnam;
Canadian Embassy;
The Australia Awards Vietnam (AAS);
Hitachi/ALC Education (Tokyo);
Vietnam Prosperity Bank (VP Bank);
Military Bank (MB);
SATO company (Japan);
Automic;
Broadcom;
Laser Media…
Our highly-qualified and experienced teachers
OEA English courses are taught by 100% foreign teachers (combined with bilingual teachers if needed), who are highly qualified, experienced, dedicated and professional.
We are pleased to provide the teacher's CV before the course opening.
Teacher
Yevheniia Stepanenko
BA in Teaching English
MA in English Philosophy and Education- Foreign Language: English & Spanish
Taras Shevchenko National University
120-hour TEFL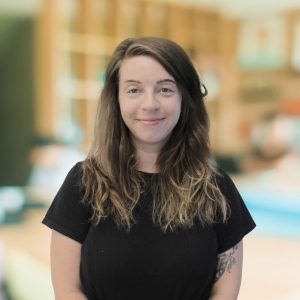 Teacher
Megan Meehan
Bachelor of Social Science
University College Cork
Advanced Certificate in Teaching English as a Foreign Language
Teacher
Matthew Aiken Low
14 year experience
Bachelor of International Business
TEFL Certification (1997)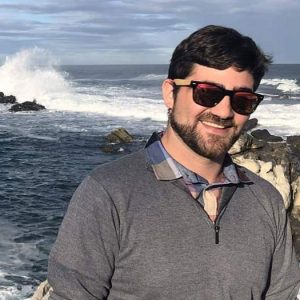 Teacher
Jason Granston Briscoe
Diploma in Business Management
University of Pretoria
TEFL Certification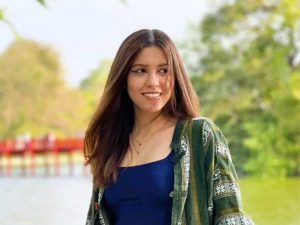 Teacher
CHAIMA BACCOURI
BA in English Language, Literature and Civilization
Master Degree in English language, Literature and Civilization: LINGUISTICS
120-hour TESOL Certificate.